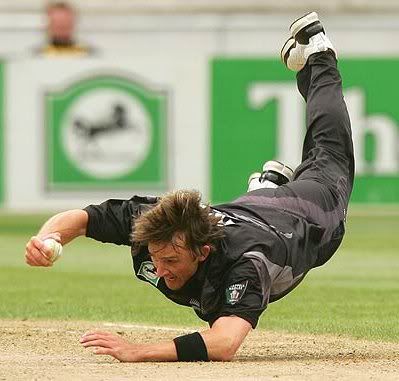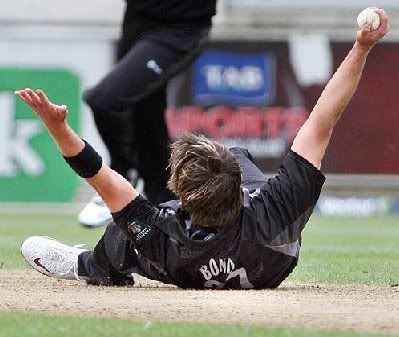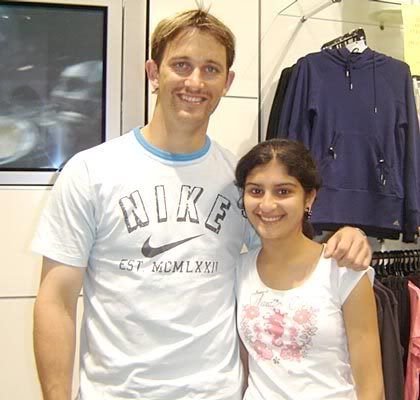 Shane Edward Bond (born 7 June 1975 in Christchurch, New Zealand) is a New Zealand cricketer. He has represented New Zealand in Test match, One Day International and Twenty20 International cricket as well as playing for Canterbury in New Zealand domestic cricket and Warwickshire in English domestic cricket. Bond is a right-arm fast bowler.

Bond's career has been plagued with injuries, chiefly recurring stress fractures of the back. He had surgery in 2004 to try and prevent further injury, but it was only partially successful. In recent years he has suffered back problems, knee injuries and an abdominal tear. These problems, in conjunction with a late start to his fully professional cricket career, have limited his appearances in both international and domestic cricket. Since his debut in the 2001/02 season, he has only managed to appear in 17 Test matches for New Zealand.

His international career is currently on hold, and may possibly be finished, after he initially signed for, and consequently played for the Delhi Giants in, the 'rebel' Indian Cricket League during March 2008, causing the New Zealand cricket board to terminate his central contract in January 2008. His decision to take part in the Indian Cricket League has also affected his future in domestic cricket, with it currently still unclear as to whether he will be able to fulfill a contract to play cricket in England for Hampshire during 2008.

Bond is a fast bowler capable of regularly bowling at speeds in excess of 145 km/h. He was first recorded breaking the 150km/h barrier in the 2001/02 season. In contrast to some other fully fast bowlers, Bond combines pace with control and accuracy, assets which have seen him find success in all forms of the game.

Limiting the statistics to players who have bowled at least 1000 balls, he holds the record for the best strike rate (27.5) in ODI's and has the third best average (19.32). In Tests, limiting the statistics to player who have bowled at least 2000 balls, his Test strike rate, (38.9), currently ranks fourth in the all-time list and his average (22.39) currently sits at number 40. Amongst current players who have bowled over 2000 balls in Tests, only Stuart Clark, Muttiah Muralitharan and Dale Steyn have better averages.

Bond usually bats quite far down the batting order, at number nine or later, but he is capable of slogging some quick runs towards the end of an innings.

Bond made his first-class debut for Canterbury on 20 January 1997, in a match against Central Districts. He was relatively old when he made his first-class debut, at 21 years and 7 months old, and for the first few years of his career he played relatively little first-class cricket, playing only 12 matches for Canterbury in his first three seasons. His bowling figures in his first three seasons were solid but unspectacular. Bond stopped playing cricket professionally for one year after he joined the New Zealand Police in November 1999, which left him no time to pursue his cricket career. He returned to play several games for Canterbury in the 2000/01 season and had reasonable success despite his year off. He was handed his first international opportunity early in the 2001/02 season, and from then, due to injuries and international commitments he was mainly unavailable to play for Canterbury, and only appeared in eight State Championship and ten State Shield games in seven seasons.

He made a brief appearance in English county cricket in the 2002 season, representing Warwickshire in three County Championship games, finding moderate success with the ball. He has signed to return to England to play for Hampshire in the 2008 season, but whether he will be able to play due to his association with the Indian Cricket League is still not decided.

Bond appeared in seven Twenty20 games for the Delhi Giants during the March/April 2008 version of the league, but had little success, only taking two wickets at 86.50.

Bond enjoyed strong success against Australia during his career. On 26 January 2002, Shane Bond bowled New Zealand to victory over Australia, getting 5/25. In the Cricket World Cup, Bond achieved 6/23 again against Australia (New Zealand's best bowling performance in ODIs at the time)[citation needed] - which including being on a hat-trick after getting Damien Martyn and Brad Hogg in consecutive deliveries. Bond struggled with a number of back problems which cause soft tissue to break.[citation needed] These injuries had ruled him out in a lot of international cricket in the past.

Against India, Bond saved New Zealand from defeat with a spell of 6/19, including the wickets of Rahul Dravid, Sourav Ganguly and Virender Sehwag. These are the best One Day International bowling performances by a New Zealander to date.[citation needed]

In a Test match against the West Indies, Bond took 5-69, his fourth 5-wicket haul in just 13 International Tests Matches, and went on to win the man of the match award. He stated that this was one of his best ever bowling efforts. New Zealand went on to defeat the West Indies by 27 runs.[citation needed]

On 14 January 2007, Bond took a hat-trick in the last over against Australia in a one-day international at the Bellerive Oval, dismissing Cameron White, Andrew Symonds and Nathan Bracken in successive deliveries, becoming just the second New Zealand player to take a hat-trick in limited-overs international cricket, although the game was still lost by 105 runs.


A graph showing Bond's test career bowling statistics and how they have varied over time.Shortly Afterwards on 23 January 2007 Bond became the second-fastest bowler in history to take 100 One-Day wickets, behind Pakistan's Saqlain Mushtaq by one match. Bond, however, needed 54 fewer deliveries to achieve the feat, and was the fastest bowler to take 100 wickets in terms of number of deliveries bowled.[citation needed]

On 16 February 2007, Bond took 5-23, his fourth 5-wicket haul, in the 2007 Chappell-Hadlee Trophy. This enabled New Zealand to dismiss Australia for 149, giving the New Zealanders a 10-wicket victory over them, the Australians' heaviest one day defeat, and although he sat out the final game in the Chappell-Hadlee series, he was instrumental in the eventual 3-0 series win for the first time in Chappell-Hadlee Trophy history.[citation needed]

On May 16, 2007, Shane Bond was named New Zealand cricketer of the year for the 2006/2007 season and the best bowler for that season. In September Bond was named in the ICC's best performing test side over the past year.


A breath of fresh air since his introduction to Test cricket on the Australian tour of 2001-02, Shane Bond has given New Zealand a rare fast-bowling option. He is among the fastest bowlers in the world, and with his arrival the potency of the attack has increased. The quickest New Zealander to reach 50 one-day international wickets, including a national best of 6 for 22 against Australia in the 2003 World Cup, his potential is only limited by his susceptibility to injury, having suffered crippling stress-fractures in his feet and back. These injuries forced him to miss out on all cricket from May 2003, including a proposed stint with Warwickshire in the English County Championship that year. However, after passing a fitness test, he was picked for the tour of England in 2004, but flew home during the second Test after failing to recover from his back injury. His fast, inswinging yorker commands the respect of the best batsmen in the game - but only when he's fit. He took 13 wickets at 9.23 against Zimbabwe in 2005, including 10 for 99 in the second Test at Bulawayo - his first ten-wicket haul - and in the process became the quickest among all New Zealand bowlers to get to 50 Test wickets, achieving the mark in only his 12th match. Unsurprisingly, he again broke down and was out of the game for another nine months with a knee injury. Another comeback was cut short when back problems kept him out of the first Champions Trophy game in 2006 but he returned again and was destructive in the CB Series in Australia. His sore back surfaced once more in Australia but he overcame it and continued his outstanding form against the world champions. His 5 for 23 in the first game of the Chappell-Hadlee Trophy in February 2007 augured well for Bond's second World Cup. He picked up 13 wickets in the tournament and finished as the most economical bowler. However, frequent injuries interrupted Bond's career and the fast bowler joined the lucrative Indian Cricket League in 2008. The New Zealand board reacted to this move by terminating Bond's national contract although they did not rule out the possibility of his return.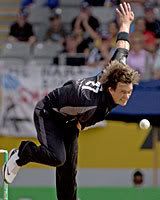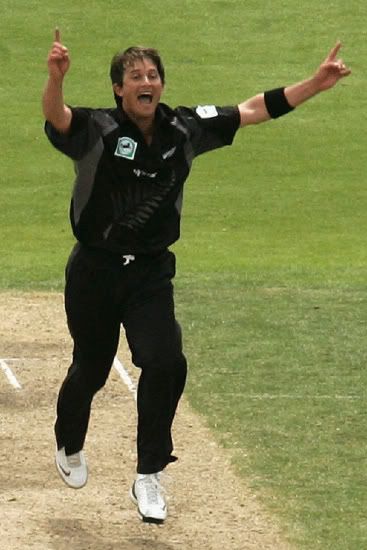 View the full list of 190 articles relating to Shane Bond

*Acknowledgements to Cricinfo.com, Wikipedia.com, Cricinfo staff, Owners of pictures, and associated links