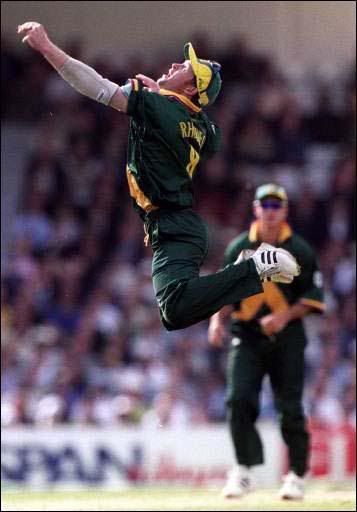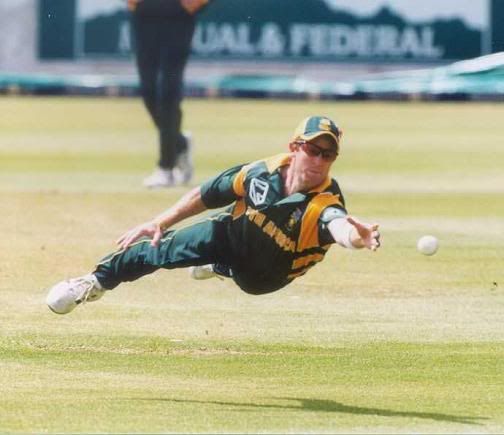 Jonathan Neil "Jonty" Rhodes (born 27 July 1969) is a former South African Test and One Day International cricketer who played for the South African cricket team between 1992 and 2003. Rhodes is a born-again Christian.

Rhodes was born in Pietermaritzburg, South Africa. As a right-handed batsman he was noted for his quick running. He was also especially noted for his fielding, particularly ground fielding and throwing from his most common position of backward point. A report prepared by Cricinfo in late 2005 showed that since the 1999 Cricket World Cup, he had effected the ninth highest number of run-outs in ODI cricket of any fieldsman, with the third highest success rate.

During his career he also played for the Irish cricket team and played first-class cricket for Gloucestershire County Cricket Club, KwaZulu-Natal and Natal. Rhodes retired from Test cricket in 2000, and from one day cricket in 2003 after an injury during the 2003 Cricket World Cup ruled him out of the rest of the tournament.

Rhodes also represented South Africa at hockey, and was chosen as part of the 1992 Olympic Games squad to go to Barcelona, however the squad did not qualify to go to the tournament. He was also called up for trials to play in the 1996 Olympics but was ruled out by a hamstring injury.

Rhodes made his Test début against India in the first Test of the "Friendship Tour" at his home ground in Kingsmead, Durban on 13 November 1992, scoring 41 in the first innings and 26 not out in the second.

Rhodes scored his first Test century during the first Test of a three match series against Sri Lanka at Moratuwa during the 1993–1994 season. Batting on the last day, Rhodes scored 101 not out and along with Clive Eksteen salvaged a draw. South Africa went on to win the series 1-0 by winning the second match and drawing the third.

Rhodes announced his retirement from Test match cricket in 2001 in order to allow him to continue playing until the 2003 Cricket World Cup in South Africa. His last Test match was on 6 August 2000 at the Sinhalese Sports Club Ground, Colombo against Sri Lanka. Rhodes made scores of 21 and 54 in the two innings. Sri Lanka went on to win the match by six wickets.

ODI career:

Rhodes made his one-day international début against Australia in South Africa's opening match of the 1992 Cricket World Cup at the Sydney Cricket Ground on 26 February 1992. Australia batted first, scoring 170, and Rhodes dismissed Craig McDermott via a run out. South Africa scored 171 to win the match by nine wickets; Rhodes was not required to bat.

Rhodes shot to fame after South Africa's fifth game of the World Cup, against Pakistan on the 8 March 1992 at the Brisbane Cricket Ground. South Africa batted first, scoring 211 off 50 overs. Pakistan's innings was reduced to 36 overs because of rain interruptions, with the target revised from 212 to 194 runs. Inzamam-ul-Haq and Pakistan captain Imran Khan resumed the innings when play was restarted. With the score at 135/2 Inzamam, who was at the time on 48, set off for a run but was turned back by Khan. The ball had rolled out towards Rhodes who ran in from backward point, gathered the ball and raced the retreating Inzamam to the wicket. Rhodes, with ball in hand, dived full length to break the stumps and effect the run out. The run out, the subject of a famous photograph, is still considered one of the more spectacular feats of that World Cup and the defining moment of Rhodes' career. Pakistan's innings faltered from then on, eventually finishing on 173/8 with South Africa winning by twenty runs.

On 14 November 1993 Jonty Rhodes took a world record of five catches, to achieve the most dismissals by a fielder (other than a wicketkeeper) against the West Indies at Brabourne Stadium, Bombay.

Rhodes announced that he planned to retire from One-Day International cricket after the 2003 Cricket World Cup in South Africa. However, his tournament was cut short when he got injured in a match against Kenya. In Kenya's innings, Maurice Odumbe hit the ball in the air toward Rhodes. Rhodes dropped the catch and in the process broke his hand. The South African team's medical staff concluded that it would take four to five weeks to heal, effectively ruling Rhodes out of the rest of the tournament. Rhodes was withdrawn from the squad and replaced by Graeme Smith.

After retirement Rhodes was employed by Standard Bank as an account executive and is also involved with the bank's cricket sponsorship in South Africa. He is presently working as a fielding coach in the South African national cricket team.

He married Kate McCarthy, a niece of Cuan McCarthy, on 16 April 1994 in Pietermaritzburg.

Awards:


In 1999 he was voted as one of the Wisden Cricketers of the Year.


In 2004 he was voted 29th in the Top 100 Great South Africans in SABC3's Great South Africans television series.

In 1999 he was voted as one of the Wisden Cricketers of the Year. In 2004 he was voted 29th in the Top 100 Great South Africans in SABC3's Great South Africans television series.


Cricinfo - Bob was more than a coach to me - Rhodes





*Acknowledgements to Cricinfo.com, Wikipedia.com, and associated links