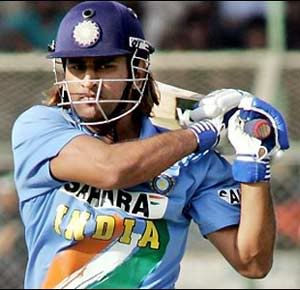 Mahendra Singh Dhoni or MS Dhoni pronunciation (Hindi: महेन्द्र सिंह धोनी) (born July 7, 1981 in Lavali Village Almora, Uttarakhand) is an Indian cricketer and the current captain of the Indian team. Initially recognized as an extravagantly flamboyant and destructive batsman, Dhoni has come to be regarded as one of the coolest heads to captain the Indian ODI side. Under his captaincy, India won the 2007 ICC World Twenty20, CB Series of 2007-08 and IDEA Cup India-Sri Lanka ODI Series of 2008, the first ever bilateral ODI series win of India in Sri Lanka and The Border-Gavaskar trophy 2008 in which they beat Australia 2-0 thus letting India regain its spot at No.2 in world test rankings(fallen to No.3 after Sri lanka tour). Dhoni also recently captained the ODI team that beat England in the series 5-0.Dhoni is currently ranked the best ODI batsman in the world by the ICC. Mahendra Singh Dhoni was awarded the ODI Player of the Year award in 2008, the first Indian player to achieve this feat.

Personal life:
Mahendra Singh Dhoni was born in Ranchi Jharkhand to Pan Singh and Devaki Dev. His paternal village Lvali is in the Lamgarha block of the Almora District of Uttarakhand. Dhoni's parents, moved from Uttarakhand to Ranchi where Pan Singh worked in junior management positions in MECON. Dhoni has a sister Jayanti and a brother Narendra. Dhoni had long hair which he has now shortened; he cut it because he wanted to look like his favourite film star John Abraham. Dhoni is a fan of Adam Gilchrist, and his childhood idols were cricket teammate Sachin Tendulkar, Bollywood actor Amitabh Bachchan and singer Lata Mangeshkar.

Dhoni studied at DAV Jawahar Vidya Mandir, Shyamali, Ranchi,Jharkahnd where he initially excelled in badminton and football and was selected at district and club level in these sports. Dhoni was a goalkeeper for his football team and was sent to play cricket for a local cricket club by his football coach. Though he had not played cricket, Dhoni impressed with his wicket-keeping skills and became the regular wicketkeeper at the Commando cricket club (1995 - 1998). Based on his performance at club cricket, he was picked for the 1997/98 season Vinoo Mankad Trophy Under-16 Championship and he performed well. Dhoni focused on cricket after his 10th standard.


Playing Style:



Dhoni is an aggressive right-handed batsman and wicket-keeper. Dhoni is one of a number of wicket-keepers who have come through the ranks of junior and India A cricket teams to represent the national team — Parthiv Patel, Ajay Ratra and Dinesh Karthik also followed this route. Dhoni, referred to as 'Mahi' by his friends, debuted in the Bihar cricket team during the 1998/99 cricket season and was selected to represent India-A for a tour to Kenya in 2004. Along with Gautam Gambhir, Dhoni made multiple centuries against the Pakistan-A team in a tri-nation series and was selected in the Indian national team later in that year.[citation needed]

Dhoni tends to play mostly from the back foot with a pronounced bottom hand grip.He has a very fast hand speed through the ball which often results in the ball racing across the ground.From this initial stance his feets do not show much movement which sometimes results in chasing balls while not coming to the pitch of the ball or inside edging a lot of balls.

Dhoni scored 148 against Pakistan in his fifth ODI match in 2005 — then the highest score by an Indian wicketkeeper. Later in the year, he broke his own record as well as set the current world record for the highest score in the second innings in ODI matches as he scored 183* against Sri Lanka. Dhoni's success in the limited overs format secured him a place in the test team. Consistent performances in ODI cricket through the end of the 2005/06 season saw Dhoni briefly ranked as the No. 1 batsman in the ICC ODI ratings.[citation needed]

Dhoni's form dipped through 2006 as India lost matches at the ICC Champions trophy, DLF Cup, away bilateral series against West Indies and South Africa. A return to form in the home series against West Indies and SriLanka in early 2007 proved to be an inaccurate indicator of Dhoni's form as India crashed out of the first round in the 2007 Cricket World Cup. Dhoni was out for a duck in both India's losses. After the World Cup, Dhoni won the Man of the series award in the bilateral ODI tournament against Bangladesh. For the tour of England, Dhoni was named the ODI team vice-captain.

As a batsman, Dhoni has shown the maturity to restrain his aggressive nature and play a responsible innings when the situation requires. Apart from traditional shots, Dhoni has two very unorthodox but effective cricket strokes. Since his entry into the Indian cricket team, Dhoni's aggressive batting style, success on the field, personality, and long hair have made him one of the most marketable cricketers in India.




Domestic career:

Junior cricket:
Dhoni was included in the Bihar U-19 squad for the 1998/99 season and scored 176 runs in 5 matches (7 innings) as the team finished fourth in the group of six and did not make it to the quarter finals. Dhoni was not picked for the East Zone U-19 squad (CK Nayudu Trophy) and Rest of India squad (MA Chidambaram Trophy and Vinoo Mankad Trophy). Bihar U-19 cricket team advanced to the finals of the 1999-2000 Cooch Behar Trophy where Dhoni made 84 to help Bihar post a total of 357. Bihar's efforts were dwarfed by Punjab U-19's 839 with Dhoni's future national squad teammate Yuvraj Singh making 358. Dhoni's contribution for the tournament included 488 runs (9 matches, 12 innings), 5 fifties, 17 catches and 7 stumpings. MS Dhoni made it to the East Zone U-19 squad for the CK Nayudu trophy but scored only 97 runs in four matches as East Zone lost all four matches and finished last in the tournament.

Bihar team:
Dhoni made his Ranji Trophy debut for Bihar in the 1999-2000 season as an eighteen year old. He made a half century in his debut match scoring 68* in the second innings against Assam cricket team. Dhoni finished the season with 283 runs in 5 matches. Dhoni scored his maiden first-class century against Bengal in the 2000/01 season in a losing cause. Apart from the century, his performance in the 2000/01[14] did not include another score over fifty and in 2001/02 season he scored just five fifty in each season in four Ranji matches. Dhoni's performance for the 2002/03 season in the Ranji Trophy included three half centuries in the Ranji Trophy and a couple of half-centuries in the Deodhar Trophy competition as he started winning recognition for his lower-order run contribution as well as hard hitting batting style.

In the 2003/04 season, Dhoni scored a century (128*) against Assam in the first match of the Ranji ODI trophy. He was part of the East Zone squad that won the Deodhar Trophy for the year and contributed with 244 runs in 4 matches. In the Duleep Trophy finals, Dhoni was picked over International cricketer Deep Dasgupta to represent East zone. He scored a fighting half century in the second innings in a losing cause.

India A team:
He was recognized for his efforts in the 2003/04 season, especially in the ODI format and was picked for the India A squad for a tour of Zimbabwe and Kenya. Against the Zimbabwe XI in Harare Sports Club, Dhoni had his best wicket-keeping effort with 7 catches and 4 stumpings in the match. In the tri-nation tournament involving Kenya, India 'A' and Pakistan 'A', Dhoni helped India 'A' chase their target of 223 against Pakistan 'A' with an half-century. Stressing on his performance, he scored back to back centuries - 120[21] and 119* against the same squad. Dhoni scored 362 runs in 7 matches (6 innings, Ave:72.40), and his performance in the series received attention from the then captain - Sourav Ganguly amongst others. However, the India 'A' team coach Sandeep Patil recommended Karthik for a place in the Indian squad as wicket-keeper/batsman.

ODI career:



The Indian team in the 2000s saw the use of Rahul Dravid as the wicket-keeper to ensure that the wicket-keeper spot didn't lack in batting talent. The Indian cricket establishment also saw the entry of wicket-keeper/batsmen from the junior ranks with talents like Parthiv Patel and Dinesh Karthik - both India U-19 Captains in the test squads. With Dhoni making a mark in the India-A squad, he was picked in the ODI squad for the Bangladesh tour in 2004/05. Dhoni did not have a great start to his ODI career, getting run out for a duck on debut. In spite of an average series against Bangladesh, Dhoni was picked for the Pakistan ODI series. In the second match of the series, Dhoni in his fifth one-day international, scored 148 in Vishakapatnam off only 123 deliveries. Dhoni's 148 erased the earlier record for the highest score by an Indian wicketkeeper, a record that he would re-write before the end of the year.

Dhoni had few batting opportunities in the first two games of the Sri Lankan bilateral ODI series (October-November 2005) and was promoted to No. 3 in the third ODI at Sawai Mansingh Stadium (Jaipur). Sri Lanka had set India a target of 299 after a Kumar Sangakkara century and in reply. India lost Tendulkar early. Dhoni was promoted to accelerate the scoring and ended the game with an unbeaten 183 off 145 balls, winning the game for India - an innings described in Wisden Almanack (2006) as 'Uninhibited, yet anything but crude'. The innings set various records including the highest score in ODI cricket in the second innings, a record that still stands. Dhoni ended the series with the highest run aggregate (346) and was awarded the Man of the series award for his efforts. In December 2005, Dhoni was signed by BCCI to a B-grade contract, skipping the initial C-grade level due to his performance on the cricketing field.

India scored 328 in 50 overs with Dhoni contributing 68 in their first match of 2006 against Pakistan. However the team finished poorly, scoring just 43 runs in the last eight overs and lost the match due to Duckworth-Lewis method. In the third match of the series, Dhoni came in with India in a precarious situation and scored 72 runs off just 46 balls that included 13 boundaries to help India take a 2-1 lead in the series. The final match of the series had a repeat performance as Dhoni scored 77 runs off 56 balls to enable India win the series 4-1. In recognition of his consistent ODI performances, Dhoni overtook Ricky Ponting as number one in the ICC ODI rankings for batsmen on April 20, 2006. His reign lasted just a week as Adam Gilchrist's performance against Bangladesh moved him to the top spot.

Two canceled series in Sri Lanka, one due to the withdrawal of South Africa from the Unitech Cup due to security concerns and the replacement 3-match ODI bilateral series against Sri Lanka washed due to rain, was India's prelude to another disappointing tournament - DLF Cup 2006-07. Dhoni scored 43 runs as the team lost twice in three games and did not qualify for the finals. India's lack of preparation showed in the 2006 ICC Champions Trophy as they lost to West Indies and Australia, though Dhoni scored an half-century against West Indies. The story of the ODI series in South Africa was the same for both Dhoni and India as Dhoni scored 139 runs in 4 matches and India lost the series 4-0. From the start of the WI ODI series, Dhoni had played 16 matches, hit just two fifties and averaged 25.93. Dhoni received criticism on his wicket keeping technique from former wicketkeeper Syed Kirmani.

Preparations for the 2007 Cricket World Cup improved as India recorded identical 3-1 victories over West Indies and Sri Lanka and Dhoni had averages in excess of 100 in both these series. However, India unexpectedly crashed out the World Cup after losses to Bangladesh and Sri Lanka. Dhoni was out for a duck in both these matches and scored 29 runs in the whole tournament. Dhoni put behind his disappointment in the World cup by scoring 91* against Bangladesh after India were left in a tight spot earlier in the run-chase. Dhoni was declared the man of the match for his performance, his fourth in ODI cricket. He was also later adjudged the man of the series after the third game of the series was washed away. Dhoni had a good Afro-Asia Cup, getting 174 runs in 3 matches at an average of 87.00, with a blitzkrieg 139 not out of 97 balls, a Man Of The Match innings, in the 3rd ODI.

Dhoni was nominated as the vice-captain of the ODI team for the series against South Africa in Ireland and the subsequent India-England 7-match ODI series. Dhoni, who received a 'B' grade contract in December 2005, was awarded an 'A' grade contract in June 2007. And also he was elected as captain of Indian Twenty-20 Cricket Team for the World Twenty20 in September 2007. On 2 September 2007 Mahendra Singh Dhoni equalled his idol Adam Gilchrist's international record for the most dismissals in an innings in ODI by catching 5 English players and stumping one. He led India to the ICC World Twenty 20 trophy in South Africa with a victory over arch rivals Pakistan in an intensely fought final on 24 September 2007, and became the second Indian captain to have won a World cup in any form of cricket, after Kapil Dev.

Test career: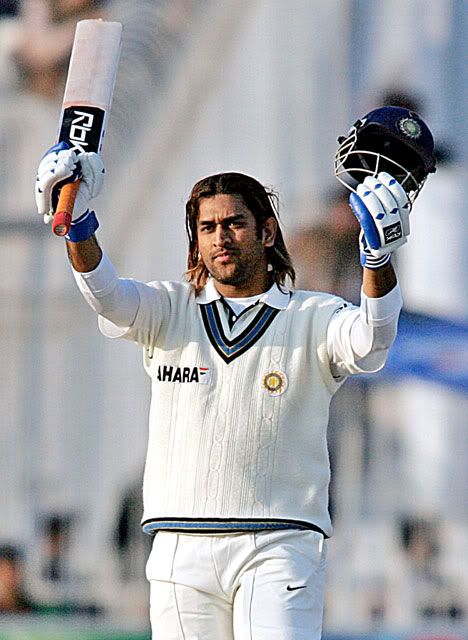 Following his good one-day form against Sri Lanka, Dhoni replaced Dinesh Karthik in December 2005 as the Indian Test wicket-keeper. Dhoni scored 30 runs in his debut match that was marred by rain. Dhoni came to the crease when the team was struggling at 109/5 and as wickets kept falling around him, he played an aggressive innings and was the last man dismissed. Dhoni made his maiden half-century in the second Test and his quick scoring rate (half century came off 51 balls) aided India to set a target of 436 and the Sri Lankans were bowled out for 247.

India toured Pakistan in January/February 2006 and Dhoni scored his maiden century in the second Test at Faisalabad. India were left in a tight spot as Dhoni was joined by Irfan Pathan with the team still 107 away from avoiding follow-on. Dhoni played his typical aggressive innings as he scored his maiden test century in just 93 balls after scoring his first fifty in just 34 deliveries.

Dhoni followed his maiden test century with some prosaic batting performances over the next three matches, one against Pakistan that India lost and two against England that had India holding a 1-0 lead going into the test match. Dhoni was the top scorer in India's first innings in the third test at Wankhede Stadium as his 64 aided India post a respectable 279 in reply to England's 400. However Dhoni and the Indian fielders dropped too many catches and missed many dismissal chances including a key stumping opportunity of Andrew Flintoff (14). Dhoni failed to collect the Harbhajan Singh delivery cleanly as Flintoff went on to make 36 more runs as England set a target of 313 for the home team, a target that India were never in the reckoning. A batting collapse saw the team being dismissed for 100 and Dhoni scored just 5 runs and faced criticism for his wicket-keeping lapses as well as his shot selections.

On the West Indies tour, Dhoni scored a quick and aggressive 69 in the first Test at Antigua. The rest of the series was unremarkable for Dhoni as he scored 99 runs in the remaining 6 innings but his wicket-keeping skills improved and Dhoni finished the series with 13 catches and 4 stumpings. In the test series in South Africa, Dhoni's scores of 34 and 47 were not sufficient to save the second test against the Proteas as India lost the test series 2-1, squandering the chance to build on their first ever Test victory in South Africa (achieved in the first Test match). Dhoni's bruised hands ruled him out of the third test match.


Links to more information on M.S Dhoni: