Sachin Ramesh Tendulkar (Marathi: सचिन रमेश तेंडुलकर) (born April 24, 1973 in Bombay, Maharashtra, India) is an Indian cricketer who is widely regarded as one of the greatest batsmen in the history of cricket. In 2002, Wisden rated him as the second greatest Test batsman after Sir Donald Bradman, and the greatest One-day international batsman.[citation needed]

He holds several highly regarded batting records and is the leading scorer of centuries in both Test cricket and one-day internationals. He is one of the three batsmen to surpass 11,000 runs in Test cricket, and the first Indian to do so. He is the most prolific run scorer in ODIs by a margin of over 4000 runs and has scored the most runs in international cricket as a whole. He crossed 16,000 runs in ODIs on February 5, 2008 while playing against Sri Lanka in Brisbane, Australia. Affectionately called 'The Little Master' or 'The Master Blaster', Tendulkar made his first-class debut for the Mumbai cricket team aged 14 and scored a century on debut. He made his international test debut in 1989 against Pakistan in Karachi at age 16.

He is the only cricketer to receive the Rajiv Gandhi Khel Ratna, India's highest sporting honour and the only cricketer and one of the first sportsmen (along with Vishwanathan Anand) to receive the Padma Vibhushan (2008), the second highest civilian honour of India. He is the most sponsored player in world cricket and has a huge fan following even amongst foreign audiences. Tendulkar has made numerous commercial ventures including opening a chain of restaurants in India.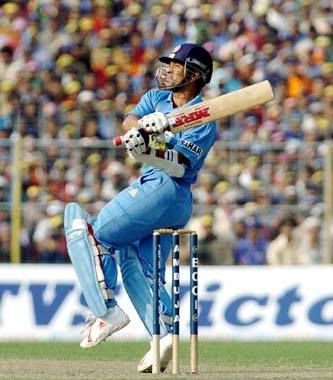 HIS PLAYING STYLE:

Tendulkar's batting style has been compared to that of Sir Donald Bradman.

Tendulkar is ambidextrous: He bats, bowls, and throws with his right hand, but writes with his left hand. He also practices left-handed throws at the nets on a regular basis. Cricinfo columnist Sambit Bal has described him as the "most wholesome batsman of his time". His batting is based on complete balance and poise while limiting unnecessary movements and flourishes. He is strong in hitting the ball to all parts of the field with a large variety of shots. He appears to show little preference for the slow and low wickets which are typical in India, and has scored many centuries on the hard, bouncy pitches in the Caribbean Islands and Australia. He is known for his unique punch style of hitting the ball over square.

Sir Donald Bradman, the greatest batsman of all time, considered Tendulkar to have a batting style similar to his. In his biography, it is stated that "Bradman was most taken by Tendulkar's technique, compactness and shot production, and had asked his wife to have a look at Tendulkar, having felt that Tendulkar played like him. Bradman's wife, Jessie, agreed that they did appear similar. "

Former Australian cricket team coach John Buchanan voiced his opinion that Tendulkar had become susceptible to the short ball early in his innings because of a lack of footwork. Buchanan also believes Tendulkar has a weakness while playing left-arm pace. He was affected by a series of injuries since 2004. Since then Tendulkar's batting has tended to be less attacking. Explaining this change in his batting style, he has acknowledged that he is batting differently due to that fact that (1) No batsman can bat the same way for the entire length of a long career and (2) He is a senior member of the team now and thus has more responsibility. However, it cannot be denied that his batting became less attractive since 2004 and while a string of his highest scores have come within this time period, the consistency has been lacking.[citation needed] During the early part of his career he was a more attacking batsman and frequently scored centuries at over a run a ball. Ian Chappell, former Australian player, believes "Tendulkar now, is nothing like the player he was when he was a young bloke". However, during the latest tour of Australia in 2008, Tendulkar displayed glimpses of his attacking style with several masterful innings.

While Tendulkar is not a regular bowler, he is adept at bowling medium pace, leg spin, and off spin with equal ease. He often bowls when two batsmen of the opposite team have been batting together for a long period, and he can often be a useful partnership breaker. With his bowling, he has helped secure an Indian victory on more than one occasion.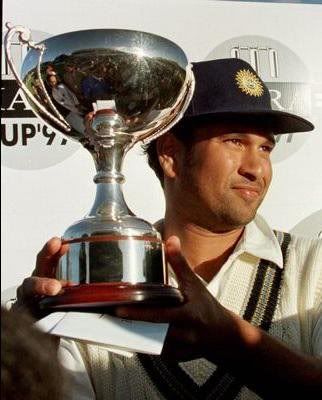 EARLY YEARS AND PERSONAL LIFE:

Tendulkar was born in in Mumbai . His father, Ramesh Tendulkar, who was a Marathi novelist, named him after his favorite music director, Sachin Dev Burman. Tendulkar's elder brother, Ajit, encouraged him to play cricket. Tendulkar has two other siblings: brother, Nitin, and sister, Savitai.

Tendulkar attended Sharadashram Vidyamandir (High School), where he began his cricketing career under the guidance of his coach and mentor, Ramakant Achrekar. During his school days, he attended the MRF Pace Foundation to train as a fast bowler, but the fast bowling trainer there, Dennis Lillee, suggested to him to "just focus" on his batting.

When Tendulkar was young, he would practice for hours with his coach. He would often get bored of practicing. So his coach would put a one-Rupee-coin on the top of the stumps. The bowler who dismissed Sachin would get the coin. If Sachin passed the whole session without getting dismissed, the coach would give him the coin. Sachin says today that the 13 coins he won then are his most prized possessions.

While at school, he was involved in unbroken 664-run partnership in a Harris Shield game in 1988 with friend and team mate Vinod Kambli, who also went on to represent India. The destructive pair reduced one bowler to tears and made the rest of the opposition unwilling to continue the game. Sachin scored over 320 in this innings and scored over a thousand runs in the tournament. This was the record partnership in any form of cricket, until 2006 when it was broken by two under-13 batsmen in a match held at Hyderabad in India. When he was 14 Indian batting maestro Sunil Gavaskar gave him a pair of his used ultra light pads. "It was the greatest source of encouragement for me," he said nearly 20 years later after passing Gavaskar's top world record of 34 Test centuries.

In 1995, Sachin Tendulkar married Anjali (born 10 November 1967), the paediatrician daughter of Gujarati industrialist, Anand Mehta. They have two children, Sara (born 12 October 1997), and Arjun (born 24 September 1999).

Tendulkar sponsors 200 underprivileged children every year through Apnalaya, a Mumbai-based NGO associated with his mother-in-law, Annaben Mehta. He is reluctant to speak about his charitable activities[citation needed], choosing to preserve the sanctity of his personal life despite media interest in him.[citation needed]

In commemorating Sachin Tendulkar's feat of equalling Don Bradman's 29 centuries in Test Cricket, automotive giant Ferrari invited Sachin Tendulkar to its paddock in Silverstone on the eve of the British Grand Prix (23 July 2002) to receive a Ferrari 360 Modena from the legendary F1 racer Michael Schumacher. On September 4, 2002 India's then finance minister Jaswant Singh wrote to Sachin telling him that the government will waive custom's duty imposed on the car as a measure to applaud his feat. However the rules at the time stated that the customs duty can be waived only when receiving an automobile as a prize and not as a gift. It is claimed that the proposals to change the law (Customs Act) was put forth in Financial Bill in February 2003 and amended was passed as a law in May 2003. Subsequently the Ferrari was allowed to be brought to India without payment of the customs duty (Rs 1.13 Crores or 120% on the car value of Rs 75 Lakhs). When the move to waive customs duty became public in July 2003, political and social activists protested the waiver and filed PIL in the Delhi High Court. With the controversy snowballing, Sachin offered to pay the customs duty and the tab was finally picked up by Ferrari. Tendulkar has been seen taking his Ferrari 360 Modena for late-night drives in Mumbai.

More information about Sachin can be found here --->>