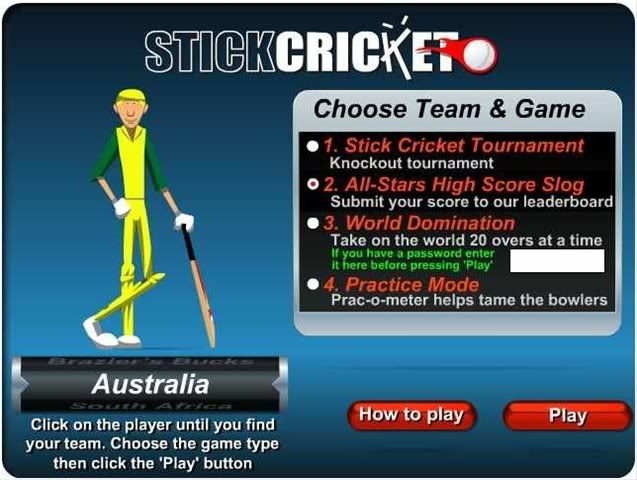 Stick Cricket is an Adobe Flash cricket game website. The game was developed originally by Cann Creative, a company from Sydney, Australia. Cann Creative later partnered with Advergamer, a company from London, England to further develop Stick Cricket into an internet phenomenon. The principles of these two companies formed Stick Sports in July 2006 to expand their stable of free online sports games. Stick Cricket runs from any web browser which has the Adobe Flash player plug-in and Internet access. The website also publishes news and other articles about cricket. In Australia, the Stick Cricket website forms part of the Fox Sports (Australia) site, owned by News Limited.

The current version of Stick Cricket is version 8. Released in November 2008, the scorecard has drastically changed to feature in the top corners instead of along the top of the screen. The scorecards are now also animated and as with every summer, fast food giant KFC release their sponsoring on the Stick Cricket website. Head2Head has also undergone a transformation.

Current versions of Stick Cricket have human batsmen. However, the batsmen were really sticks before the Stick Cricket game was moved from the servers of Cann Creative to its own website. Other websites have a modified (usually outdated) versions of Stick Cricket, though some are now offline, for those feeling nostalgic.

Game Modes:

All Star Slog: Play a 5, 10 or 20 over match against the Stick All Stars team, made up of cricket greats. Registered users have the ability to play as their own created team, and play 50 over matches, saving at 10 over intervals.

World Domination: Version 7 saw the return of World Domination where you have to beat 16 international teams in 20 over matches, starting with the easiest team (Bermuda) and finishing with the hardest (Australia). Registered users can use their own created team in World Domination.

Multiplayer (BETA): Released on 12th December 2007, Multiplayer pits you against real opposition from around the world. Players log in to the "clubhouse" and play 5 over matches against people from all over the world. The aim is to get your skill as high as possible, keep your reputation and be the best Stick Cricketer in the world. Multiplayer can be used by both registered users and guests. Quitting a game lowers your rep and you are temporarily banned for 15 minutes. Racist or abusive comments means your I.P. address is banned for life or until further notice.

Head2Head: Play the current matches going on right now. You now compete in every match in the current series rather than just one. Twenty20's are 5 over matches, ODI's are 10 overs, and Tests are 20 overs. Head2Head is only playable when the actual match is going on at the time of real life. Whoever wins the most times for their selected country wins the match and points are added to the Head2Head table.

Super 8: The knockout stages of the "Stick Sports World Cup" where you choose your country and lead it to glory. 5 overs for each game and was especially created so you could "win the World Cup in your lunch break."
Club Challenge: A completely different game mode where you choose a domestic side from anywhere in the world and get 10 balls to hit as many runs as possible. If you don't hit a boundary, you lose a ball and wickets cost a ball and -5 runs.

Other options:

Live Cricket Scores: Live scores from domestic and international matches around the world.

Cricket Fixtures: Takes you to the same page as Live Cricket Scores.

Community: The Stick Sports forum, where you can talk about all the Stick Sports games if you have an account.

Help/FAQ: A help page where normally only the stupidest questions make it through. It is pointed out that it is very unlikely they will actually answer your question.

Hall of Fame: The Stick Cricket honour board featuring records from the All Star Slog game mode including Highest Team Total, Highest Individual Innings, Highest Strike Rate, Most Perfect Overs and Most Sixes Hit.

My Stats: If you have an account you can view your career batting stats from All Star Slog and World Dom as well as your career run rate chart.

My Team: Registered users can here create their own team's players, kits, name, skin colour, and what hand they bat with as well as view their stats.

My Leagues: You can join leagues from around the world if you have an account. 5 or 6 Public Leagues are normally open for anyone to enter but Private Leagues can be created for just you and your friends to enter, needing a League ID and password. In a league you normally have 4 or 5 days to submit a 10 or 20 over All Star Slog score. Once all scores have been submitted using a custom scoring system a ladder is created and points are awarded to the best players.

Shots:
Up arrow or "W": Straight drive, defend, let go.
Left arrow or "A": Cow corner, pull, hook.
Right arrow or "D": Cut, off drive.
Down arrow or "S": Duck (used for bouncers)

To play Stick Cricket, go to their officlal site at www.stickcricket.com.



*Acknowledgements to Wikipedia.org and owners of pictures and videos used.